NEW: MyHeritage DNA tests for genealogy!
by Ania ·
February 16, 2012
MyHeritage is proud to take genealogy to the new millennium by offering a revolutionary technology for advancing family history research — DNA testing — at affordable prices.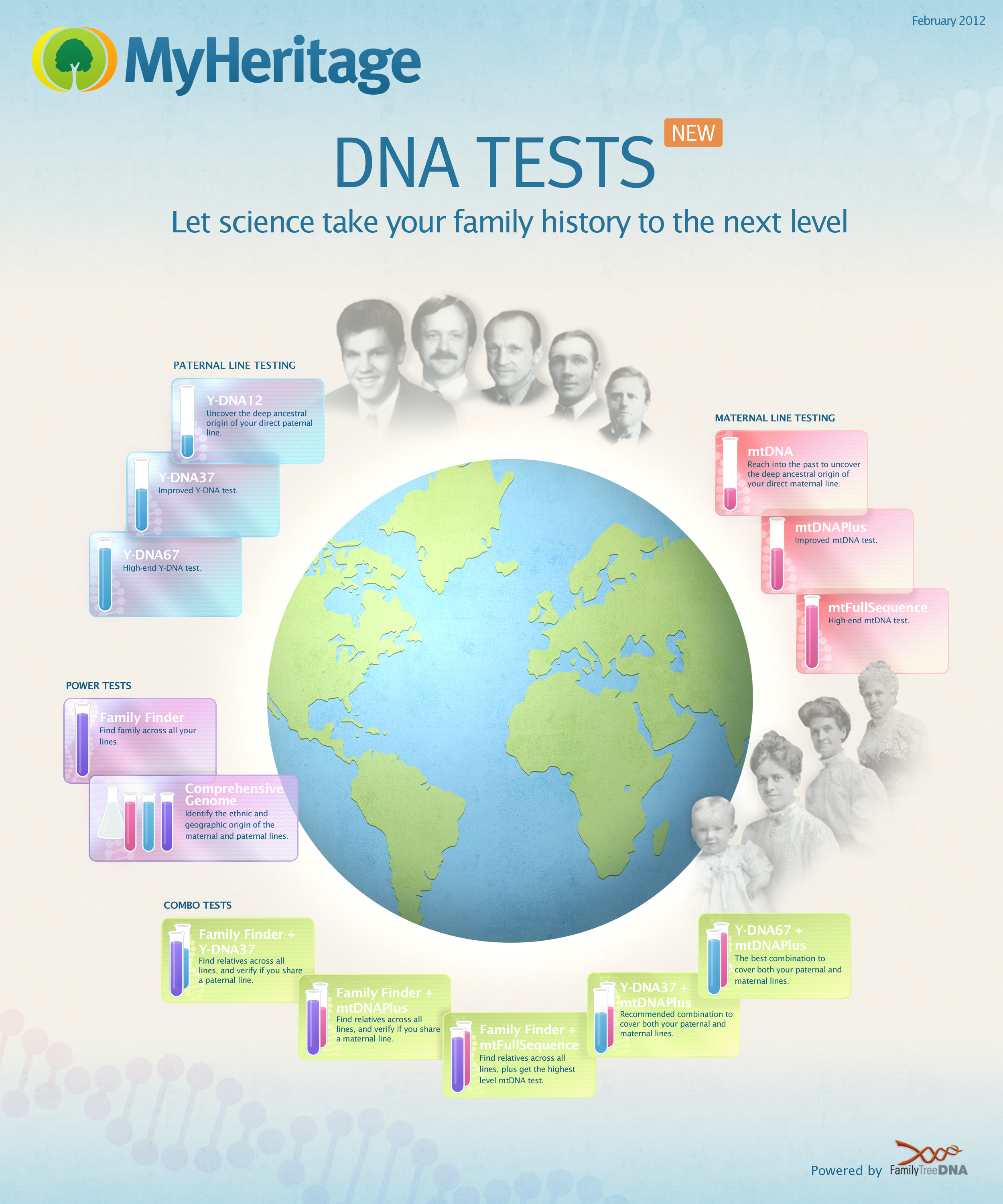 Your ancestors left clues to your family history in you and in other descendants, and you can unlock these clues by testing your DNA. Order your DNA test now.
DNA testing can help you:
Discover previously unknown relatives via DNA matches
Uncover the ethnic and geographical origins of your ancestors
Prove or disprove whether you and another person are related through a common ancestor
Break through "brick walls" encountered during your family history research
DNA tests are useful for identifying the deep ancestral origins of your direct paternal line (Y-DNA), your direct maternal line (mtDNA), finding relatives across all lines via autosomal DNA (Family Finder) and producing a percentage breakdown of your ethnic roots.
The following video shows where to find the new DNA service on MyHeritage:
For analysis of users' DNA samples and DNA matching, MyHeritage has partnered with Family Tree DNA, the global leader in genetic genealogy. The company pioneered the genealogy DNA industry and has amassed the world's largest DNA database, providing the best capabilities for genealogy DNA matching, which MyHeritage users now enjoy. Family Tree DNA is also well known for its work with National Geographic on the Genographic Project, and it operates its state-of-the-art genetic genealogy lab in Houston, Texas. Privacy is strictly maintained and DNA results are not shared with anyone but you.
MyHeritage is introducing today a wide range of DNA tests to meet different research objectives and budgets. For an introductory period, all prices are discounted for MyHeritage subscribers, starting as low as $84.
DNA projects provide opportunities for people to collaborate with others to explore a common genetic heritage, especially for exploring whether people with the same surname are related. Project membership is free and voluntary. If there is a DNA Surname Project for your last name, you will see this on your profile.
Want to learn more? Read the detailed Frequently Asked Questions about DNA on MyHeritage.
We are happy to bring this innovative set of products to you, the best that science has to offer to push the frontier of your family history research, as we continue to work hard to make MyHeritage a more complete destination for your family history needs.
We hope you will soon join our founder Gilad, and our in-house genealogists Daniel, Schelly and Laurence, who have all purchased DNA tests for taking their family history to the next level.