Amy Winehouse's Family Tree: a Humble Heritage
by Aaron ·
August 2, 2011
Two weeks ago the world was moved by the tragic death of Amy Winehouse, one of the best English singing talents ever. Many fans paid their respects, including singer George Michael who deemed her "the most soulful vocalist England has ever seen."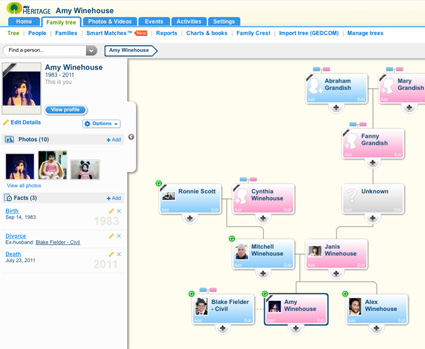 Many cried at what was clearly an early departure for such a young artist and the mourning, for many, still continues. At MyHeritage we have decided to pay tribute to Amy by doing what we do best and present her family history for posterity…
In contrast to Ms Winehouse's influential, legendary and somewhat controversial career and lifestyle, Amy's ancestors appear to come from more modest beginnings. The family has always resided in North London, with Amy's earliest recorded ancestors, her great-great grandfather Abraham Grandish and her great-great grandmother Mary Grandish living in Whitechapel, Spitalfields – according to the 1911 census. 
Abraham and Fanny, his daughter and Amy's great-grandmother, both Jewish immigrants from Russia had similarly mundane, yet of the period occupations. Fanny waterproofed coats with rubber to withstand the aggressive British rain, and her father sold fruit as a 'hawker' – a job we would now recognise as a vocal street vendor, bellowing out deals for apples by the pound. 
During our research, we also found people on MyHeritage.com who are part of the same wider family of Winehouses to see the page click here .
In fact, the family name in Russian is spelt Вайнхаус , and in Hebrew, ווינהאוס.
Amy's Camden flat, now a place of pilgrimage for her many fans, is only a mere 6 or so miles from where Abraham and Mary lived their simple lives with children, David, Jane, Julia and Jack, and yet, the dichotomy between the two lifestyles is palpable. 
Nowadays, her mother Janis Whitehouse lives in Barnet, North London and practices as a Pharmacist. Her father, a black London cab driver turned Jazz singer, lives in Shoreditch and often plays at Ronnie Scott's Jazz club in Soho, named after the famous jazz tenor saxophonist who was once engaged to Amy's paternal Grandmother, Cynthia Winehouse. 'Granny' Winehouse, was always extremely influential for Amy.
We have also put together some family pictures of Amy in her MyHeritage gallery, click on the image for more.