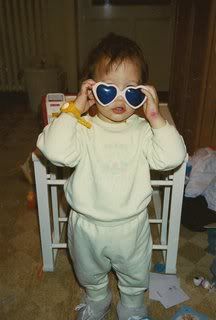 'Newbie' is definitely the tag that would suit me best at the moment. New to MyHeritage.com, to London and to the genealogy community, but eager to learn and very curious, I am the new girl in charge of the french-speaking community! In the past five years I've lived in the Paris rythm, eating baguettes, reading the French sports paper L'Equipe in the metro and getting in touch with my own culture.
It's always a difficult exercise for me to explain my background without sounding confusing, so I'm going to give you a rather chronological description of it. My Mum is Alsacian (french), my Dad is Taiwanese and I was born and grew up in Luxembourg, where I went to a European School - 15 countries, 11 languages, from kindergarten to graduation. By the time I was 17, I was lucky enough to have friends from all over Europe and to speak French, English, Chinese, Spanish and understand German, Dutch, Portuguese and Italian.
Coming from a very multicultural background, I've learnt to make the best of communication systems at a young age. First the telephone, the mobile phone and finally the 'Interweb' as I like to call it, I've developed a particular interest for the tools that have helped me - and still help me - get in touch with my scattered family and friends.

Later on, I was to study media and communication in Paris and work in the music industry for several years as a PR, marketer, sales person and journalist, and I became a french media specialist of some kind. The business I was in was very target-oriented and it was important to have a good understanding of French consumers' behaviours.
But, I suppose, the most important aspect of all my past experiences was that they helped feed my curiosity and allowed me to develop my own 'eye' and sense of vision (of which you can get an idea if you follow @MyHeritageFR or @Kidbravas). And in the past few months it has appeared to me that more and more of my friends' parents join Facebook, Linkedin and other social websites. The Web 2.0 being, probably, the most democratic version of the World Wide Web, I see myself not having to explain the 'browsing' process to my Mum anymore or Skype to my Dad, and it's very refreshing. The Web has opened up a door to a whole new audience and it is for us to define, together, how the Web will shape itself. Exciting times, no?
Search for your ancestors: